Products
The hottest offers of the year for Evoca Visa cardholders
Summer is coming to an end and if you are still planning a trip, these offers are for you.
31.07.2023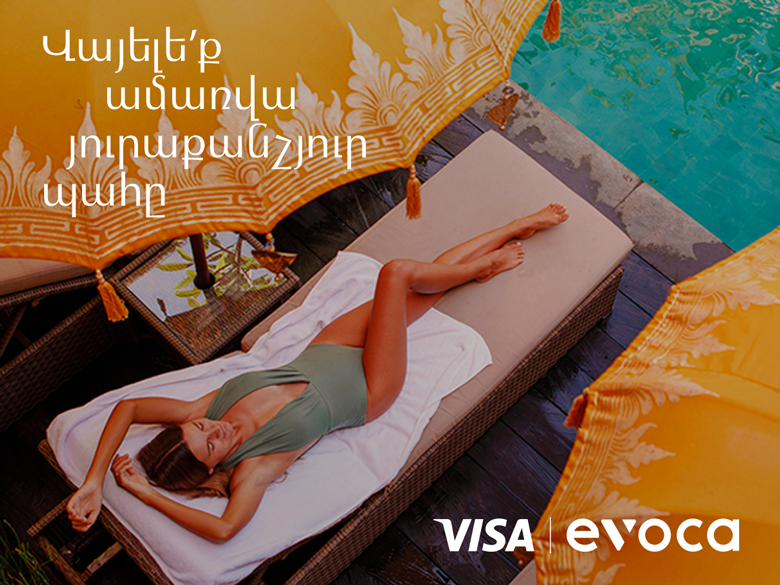 If you wish to have unforgettable experiences, then you are in the right place at the right time. Here are the hottest offers of the year for our Evoca Visa cardholders.
Even if you didn't plan to go on vacation, we are sure these offers will give rise to an insurmountable desire to take a break.
So let's get started.
From now on, planning trips in Armenia and abroad is easier and more rewarding for our cardholders. You can book hotel rooms, rent cars, enjoy the Tast Track services at airports in European countries and numerous other priviledges and advantages at Zvartnots international airpoort, get a free internet roaming package from Telecom Armenia if you are registered in Visa Concierge chatbot and other priviledges in a number of hotels, restaurants and places of entertainment in Armenia.
Now let's explore all our offers for international and domestic travels for Evoca Visa Premium cardholders.
International travels:
10% discount at Rentalcars
10% cashback at Booking.com
Fast Track service in European airports
A free internet roaming package from Telecom Armenia for all Visa Premium cardholders registered in Visa Concierge chatbot
Up to 12% discount at Agoda.com
A special offer for spa services from Jumeriah Hotels & Resort
35% discount at Avisum
Fee access to Business Lounges
Free luggage wrapping
Fast Track at Zvartnots international airport
15% discount at Segafredo for coffee
AMD 1,000 discount for Zvartnots airport to Yerevan route
15% discount at Cinnabon and Square One at Zvartnots airport
Convinience with Visa Concierge chatbot
Domestic travels:
Special offer at Apricot Hotels & Resorts
Special offer at Apaga Resort
Special offer at Yell Extreme Park
10% discount at Tufenkian Hotels Restaurants
Hover hotel in Dilijan: 10% discount for booking rooms, 5% discount at restaurant
Discount for GG rides
Special offer at Dilijazz Hotel & Restaurant
A lot of priviledges at Jellyfish for Visa Infinite cardholders
10% discount at Sixt
Offer details may be found here.
So this year Evoca Visa card will become your indispensable business card with unlimited opportunities and priviledges.