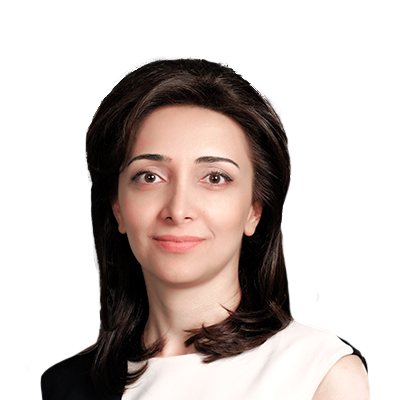 TATEVIK JANOYAN, MBA
Member of Supervisory Board
Tatevik Janoyan was born in 1982 in Yerevan.
In 2003, she graduated from Yerevan State University and 2009 she got a master's degree in business administration (MBA) from American University of Armenia.
In 2012 she underwent professional development courses on Strategic Human Resource Management organized by the same university.
In 2007-2011, she served as analyst and marketing specialist to organize and carry out researches in a number of marketing, sociological and business consulting companies.
In 2011 served in Prometey Bank as the Head of Marketing division, a year later she was appointed Bank's HR manager.
From October 2017 to April 2023, she was the head of Evocabank's HR Management Division.
From April 2019 to April 2023, she was the Head of HR Management Division, member of Management Board of Evocabank CJSC.
Since May 2023 is the founder and CEO of TRANSFORMERS Human resources management and Business consulting company.
Since July, 2023 up to present - Member of Supervisory Board of Evocabank CJSC.
Married, with one child.