Banking
Evocabank Bonds Listed on Armenia Securities Exchange
On April 8, Evocabank's bonds were listed on Armenia Securities Exchange for the first time.
08.04.2021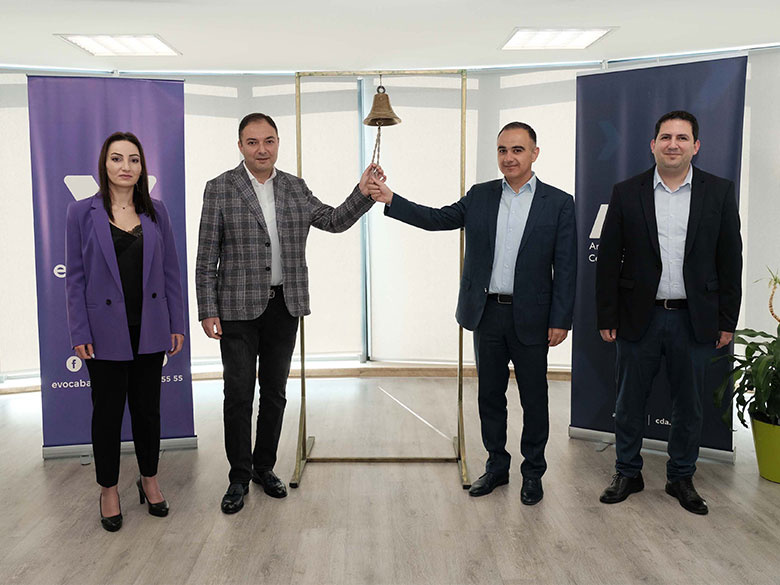 Bank's representative rang AMX's opening bell in celebration of the first listing of Evocabank bonds on the Exchange platform.
Evocabank Management Board chairman Karen Yeghiazaryan said, "We are pleased to have launched a new profitable financial instrument for our investors, which is an alternative to the classic deposit product and has a number of advantages. In particular, the income from bonds is exempt of income tax, non-resident income tax, the funds attracted by them are considered a guaranteed bank deposit and guaranteed by the Deposit Guarantee Fund in the amounts defined by the RA legislation. I should also mention that for the first time in Armenia it was possible to purchase our bonds online through the Bank's EvocaTOUCH app".
Head of Investment operations department Kristina Vardanyan added that the Bank will regularly issue corporate bonds thus contributing to the development of RA capital market, at the same time continuing to design and introduce new innovative digital products.
Congratulating Evocabank's team on the first listing of bonds, Hayk Yeganyan, CEO at AMX, wished success to the bank in the securities market, noting, "I'm happy to see Evocabank not only in the role of Exchange member and market participant but also as an issuer. Considering the high demand for corporate bonds, I am sure that the trading of bonds on the exchange platform will be very active. The volume of the corporate bond market at AMX in 2020 increased to AMD446 billion, exceeding previous years' data by 106%. The volume of trade amounted to AMD 32 billion, which is 8.5% more than for the last year. Tax improvements are one of the factors contributing to the growth of trade in the corporate bond market. Until 2025 Interest income from bonds listed on AMX, as well as bank issued bonds with a maturity of 24 months and more, are exempt of income tax. Dividends of listed companies are also not taxed for both residents and non-residents."
Main terms and conditions of the bonds issued by the Bank in March 2021 are given below:
Dollar-Denominated Bonds Tranche
ISIN code - AMPROMB21ER4
Listing/Admission to trading date - 08.04.2021
Volume – USD 5,000,000
Par value – USD 100
Coupon yield rate - 5.5%
Maturity date - 02.09.2023

Dram-Denominated Bonds Tranche
ISIN code - AMPROMB22ER2
Listing/Admission to trade date - 08.04.2021
Volume – AMD 500,000,000
Par value – AMD 10,000
Coupon yield rate - 10%
Maturity date - 02.09.2023
As the first and the only bank in Armenia to operate in mobile-first format, Evocabank delivers fast, simple and innovative services actively using the latest information technology.
Evocabank for the 4th consecutive year is announced The Best Digital Bank in Armenia by the influential Global Finance magazine.