Banking
Evocabank and HayPost Begin New Cooperation
A memorandum of cooperation is signed between the two companies.
16.05.2022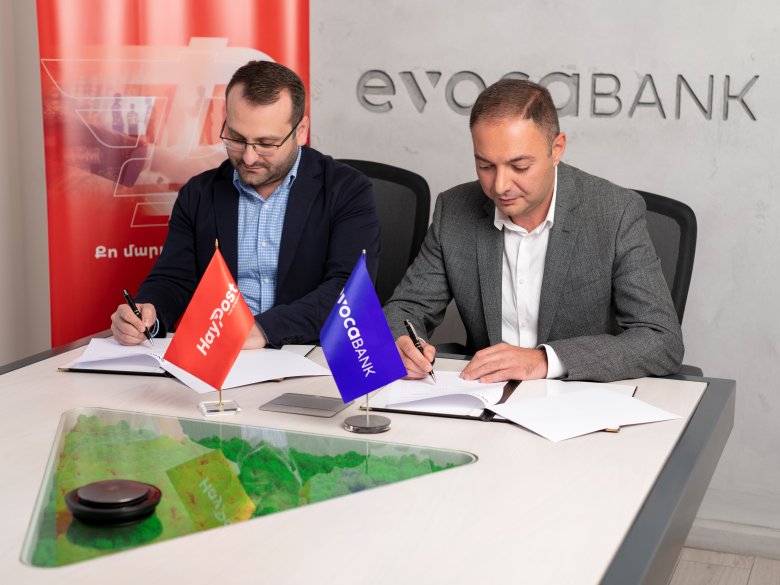 A memorandum of cooperation is signed between Evocabank and HayPost. The memorandum is signed by HayPost C.E.O. Hayk Karapetyan and Karen Yeghiazaryan, Chairman of Evocabank Management Board.
The parties envisage implementing a number of digital innovation projects under the new cooperation agreement, aimed at delivery of convenient and affordable fintech services to customers of HayPost and Evocabank, including those to be provided in the communities in which Evocabank has no branches.
Owing to new cooperation, post offices can accept payments on Evocabank loans, amounts for replenishing bank and card accounts, while in the future, also accept loan applications, provide syndicated loans under HayPost Credit project and perform international money transfers. Besides, owing to Evocabank's innovative mobile POS technology, customers can make non-cash payments at HayPost offices for utilities, commercial and postal services. Evoca mobile POS is a mobile version of a standard POS-terminal, which transfers Android smartphone into a payment terminal.
The parties also envisage simplifying the procedure of bank account opening for customers of HayPost Pay electronic wallet.
As Karen Yeghiazaryan, Chairman of Evocabank Management Board mentioned, - "As a digital bank, Evocabank regularly introduces innovative fintech instruments suggesting new solutions that comply with global trends".
With consideration of the role of mobile banking and fintech having become an integral part of an individual's daily life, we have prepared a new financial instrument - Evoca mobile POS ( mPOS). We highly appreciate the cooperation with such a large and strategic company as HayPost having become our first partner for the Evoca mPOS product project. Owing to the new cooperation, our services will be accessible in about 850 locations".
"We are happy to cooperate with the best digital bank of Armenia as we go on with upgrading our ecosystem. In light of the growing demand for banking services, the cooperation between HayPost and Evocabank will make the future services through our numerous post offices accessible even for people in bordering and remote communities",- noted HayPost C.E.O. Hayk Karapetyan.
HayPost and Evocabank envisage issuance of joint cards.