Banking
New Cooperation between Evocabank and Armenian Leasing Company
Evocabank and Armenian Leasing Company Signed Cooperation Agreement
05.03.2021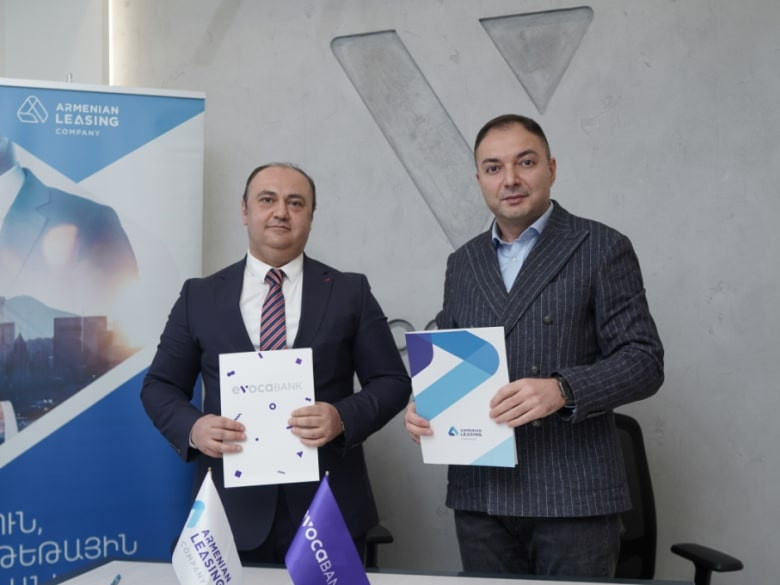 Under the cooperation agreement, Armenian Leasing Company will provide specialized lease financing to Evocabank customers. Apart from lease financing, Bank customers will be offered other financial and non-financial services, including consulting services.
Armenian Leasing Company will implement lease financing using both its own and Evocabank funds.
Chairman of Evocabank Management Board Karen Yeghiazaryan said, "The Bank keeps introducing new financial instruments in order to find fast and simple solutions for individual needs of its customers. Lease is an alternative means of financing and the demand for lease financing is growing among our customers and partners. Under the cooperation agreement, our customers will have an opportunity to make good use of all the advantages of lease instruments".
Arsen Bazikyan, C.E.O. of Armenian Leasing Company UCO CJSC said: "As a company regularly offering innovative solutions in the sector, Armleasing has been implementing a policy of non-competition but rather cooperation with other financial structures. Arsen Bazikyan is sure that the cooperation with Evocabank will be beneficial not only for the two financial organizations but also for the Bank's customers and supplier companies.