Lifestyle
Discounts for Cardholders of Visa Premium Cards
Pay with Evoca Visa premium cards and get discounts offered by more than 20 partners.
04.07.2022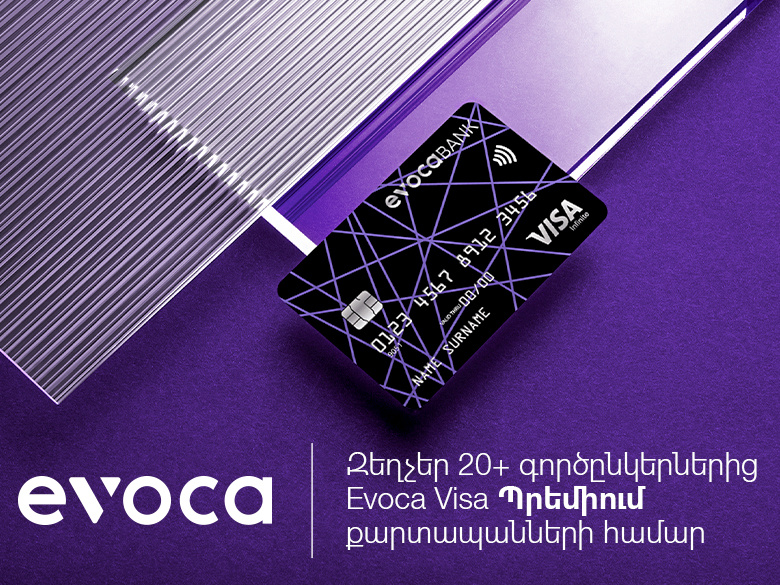 Summer is especially hot for cardholders of Evoca Visa premium (Visa Gold and Visa Infinite) cards.
Make purchases, enjoy the weekend at Spa Center, have lunch or drink coffee at the mentioned locations and enjoy the special offers.
So let's start!
10% discount at Lumen Coffee
10% discount at Eat&Fit
15% discount at Cinnabon
Lunch InTempo at a 15%-discount from 8:30 a.m. to 12 p.m.
Lunch at Square One at a 15%-discount
Lunch at Sorriso until 12p.m. at a 15%-discount
Special offer at Segafredo café
15-day free pass for Orange Premium Fitness Club
Special offer at Apaga Resort
10% discount at Alexander Spa by Anne Semonin
Special offer at Yell Extreme Park
10% discount at Burmunk store
8% discount at The Body Shop
Special offer at Chronograph
Special offer at Time
Special offer at Pandora
Kitchen utensils at ZigZag at additional 10% discount
5% discount at SacVoyage store
15% discount at Laura Ashley
5% discount at Yooto.online
5% discount at Via Artis store
10% discount at Garmin stores
10% discount at AKG pharmacy
AMD 500 off on all rides with GG taxi from Zvartnots airport
Free internet roaming offered by Telecom Armenia
Car accessories at Land Rover Armenia at a discount of up to 15%
Car accessories at Jaguar Armenia at a discount of up to 15%.
Don't you have an Evoca Visa premium card? Order now, get it with free delivery service to the address you indicated in your order and hurry up to enjoy the special deals.
How to order a card?
At evoca.am order a Visa Gold or Visa Infinite card.
Or download the EvocaTOUCH app here and order right from your phone.
Other news