Prizes
Go to Eurovision with Evocabank
Take part in the lottery draw, win tickets for semi-final and final song contest of Eurovision and fly to Tel-Aviv with your friend.
16.04.2019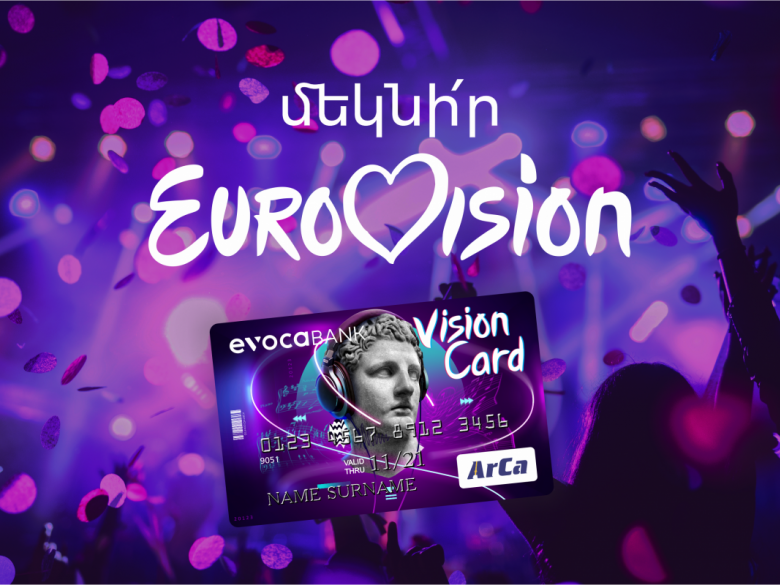 To take part in the campaign, you need to order a special fancy Evoca Vision Card during the period of April 1 to April 27, 2019 via EvocaTouch app!
You will get Evoca Vision Card free of any charge and without annual service fee.
The draw will take place live on the First public channel during which Srbuk will randomly pick the names of the three lucky people who together with their friends will travel to Tel-Aviv on May 14-19.
Only the cards ordered through the app will be eligible for this draw.
RA residents aged 18 and over may take part in it. Under the terms of the draw, each person can order 1 card only. Those holding Evocabank's cards, should refer to the Bank for a new Vision Card.
All the cardholders having ordered Evoca Vision Cards during the period April 1-27, will take part in the draw. If the card was ordered but not picked up by 17:30 April 27, the cardholder will not be eligible for the draw.
To make the lottery transparent, it will be live streamed on First Armenian Channel.
The winning cardholder may hand his/her prize over to a family member. Under the campaign, family members are considered to be: father, mother, spouse, spouse's parents, grandfather, grandmother, sister, brother, son / daughter, son's / daughter's spouse, grandson, granddaughter, sister's / brother's spouse, sister's / brother's child. In case of handing the prize over to a family member, the winner must submit to the bank relevant documents certifying the family relationship (passports, birth and marriage certificates).
Lottery prize winners: 6 people (3 winners x 2)
May 14, will depart from Yerevan to Tel-Aviv,
Will stay at a luxurious hotel,
May 16, will attend the second semi-final song contest of Eurovision, at which Armenia's representative Srbuk will perform the "Walking Out" song,
May 18, will attend the final song contest of Eurovision,
May 19, will return to Yerevan.
The costs related to the air tickets, visa, hotel accommodation, breakfast, money transfers, transportation, and second semi-final and final song contest tickets will be borne by Evocabank. Other personal expenses should be covered by the participants.
The bank will not reimburse the draw winners for the prize nor will replace it with other gifts.
The bank will not be held responsible for the potential visa decline. In this case, the winner should decide to whom to hand over his/her prize.
Other news