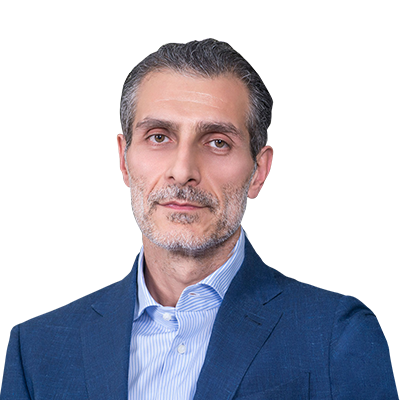 VAZGEN GEVORKYAN, MBA, PhD
Chairman of Supervisory Board
The ultimate final beneficiary of Evocabank CJSC.
Vazgen Gevorkyan was born in 1971 in the village of Oshakan of Aragatsotn province of Armenia.
In 1988, he finished Yerevan school #129 after Guy. He got his university degree from the Geological faculty of the Yerevan State University.
In 1993, he was admitted to the Academy of National Economy under the Russian Government and upon its graduation in 1998, was awarded a diploma in Modern Methods of Corporate Governance. In 2003, upon completion of postgraduate courses, he defended his candidate thesis and he has a PhD in economics.
In 2008, he got an MBA degree.
At the age of 20, he started his career as a foreman at the Plumbing fixture and household appliances plant of Prometey joint-stock company.
In 1994, he was promoted to the representation of ZNGS-Prometey ojsc getting a position of the officer in-charge of relations with foreign companies. During 10 years, he held various executive positions and in 2001 was appointed a deputy chairman of the company board.
In 2003, he assumed the position of the executive director of Zakneftegazstroy-Prometey LLC.
In 2004-2009, he has been the Chairman of the Board of Directors of Zakneftergazstroy-Prometey LLC, and from 2009 to 2018 he has been the 1st CEO advisor.
Since 2018, he has been the 1st CEO advisor of Prometey-City LLC.
He is a 100% shareholder of Prometey-City LLC.
Since July 2019 up to September 2019, has been a Member of the Supervisory Board of Evocabank CJSC.
Since September 2019 up to present - Chairman of Supervisory Board of Evocabank CJSC.
Married with two children.