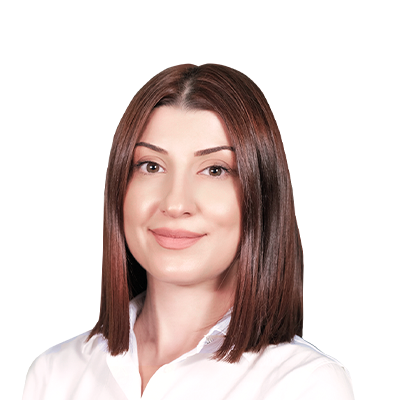 LILIT GABOYAN, MBA
Deputy Chairman of Management Board, CFO
Lilit Gaboyan was born in Yerevan in 1987.
In 2010, she got her master's degree from the Yerevan State University and in 2012 she earned a master's degree in business administration (MBA) at the American University of Armenia.
She is a CFA (Chartered Financial Analyst) level III candidate.
From 2008 to 2010, she worked as a management system specialist at Coca-Cola Hellenic Bottling Company – Armenia cjsc.
From 2010 to 2012, she worked for ProCredit Bank cjsc as a loan officer, then analyst at the Planning and Controlling Unit of the mentioned bank.
During the period of 2012-2019, she worked for Ameriabank cjsc as a senior analyst, then the head of Financial Analyses and Planning Unit.
Since 2019, she has served at Evocabank cjsc as deputy chairman of the Management Board, CFO (Chief Financial Officer).
She is married with one child.