Innovations
IFC DigiLab Finance Successfully Completed by Evoca
DigiLab Finance is run by International Finance Corporation - IFC and Accenture.
18.05.2022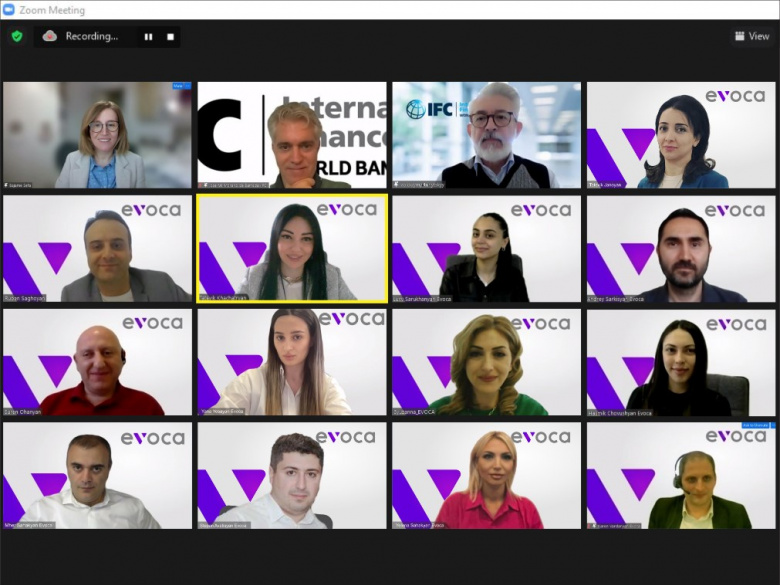 DigiLab Finance is a 12-week innovative accelerator program, founded by IFC and Accenture, to enhance the company's digital transformation strategy and structure a tailored roadmap. Participating executives attend workshops and are mentored by leading digital finance experts.
The program of Evocabank was mentored by Bajame Sefa, operations officer, lead advisory at financial institutions group, IFC – Europe and José M. Moreno de Barreda, global digital finance specialist at IFC financial institutions group. Nino Kartozia, public outreach specialist at IFC, was facilitating through the program.
During the course different leading specialists from various countries shared their knowledge and experience in such topics as digital transformation, design thinking, agile culture, change management, lean technology, data management, change management and digital leadership.
"DigiLab program was a very important and valuable experience for us. Our digital transformation team has defined a new digital North Star and developed a roadmap to achieve it. DigiLab program has helped us to enhance our strategic skills and competences. Thus, now we are ready to dig deeper into our digital DNA and expand the horizons of digital transformation of the Bank." said Tatevik Khachatryan, Deputy CEO of Evocabank.
DigiLab is designed for digital banks which are open to innovative transformations. Evocabank passed the program alongside with such leading digital banks as FinComBank from Moldova and Terabank from Georgia.
"Digital transformation has opened for us the new approaches, and the transition from being product-centric to customer-centric. Together we have created our North Star – "A Bank with a Human Face in the Digital Age, People first" - this is our guide, this is our ambition and the basis of all changes on the way to the digital transformation of our Bank. FinComBank, which occupies a top position in the digital banking products and services segment, has gained invaluable knowledge and experience during the Digilab Finance program alongside innovative banks like Evocabank and Terabank. Undoubtedly, it will become the starting point of all transformation processes.", said Svetlana Mironova, the Interim CEO of FinComBank S.A.
"Participating in the Digital Transformation Program has taken Terabank's strategic approach to introducing innovative approaches and state-of-the-art solutions to an even higher level. The opportunities that we have shared as a result of the program will help us run our business processes in such a way that, based on the principles of digital transformation, we can respond to customer needs more flexibly and quickly," says Vakhtang Khutsishvili, COO of Terabank.
IFC—a member of the World Bank Group—is the largest global development institution focused on the private sector in emerging markets. IFC works in more than 100 countries, using capital, expertise, and influence to create markets and opportunities in developing countries. In fiscal year 2021, IFC committed a record $31.5 billion to private companies and financial institutions in developing countries, leveraging the power of the private sector to end extreme poverty and boost shared prosperity as economies grapple with the impacts of the COVID-19 pandemic. For more information, visit www.ifc.org.