Innovations
e-Sign system in Evocabank
Evocabank moves from paper to electronic solution.
26.05.2023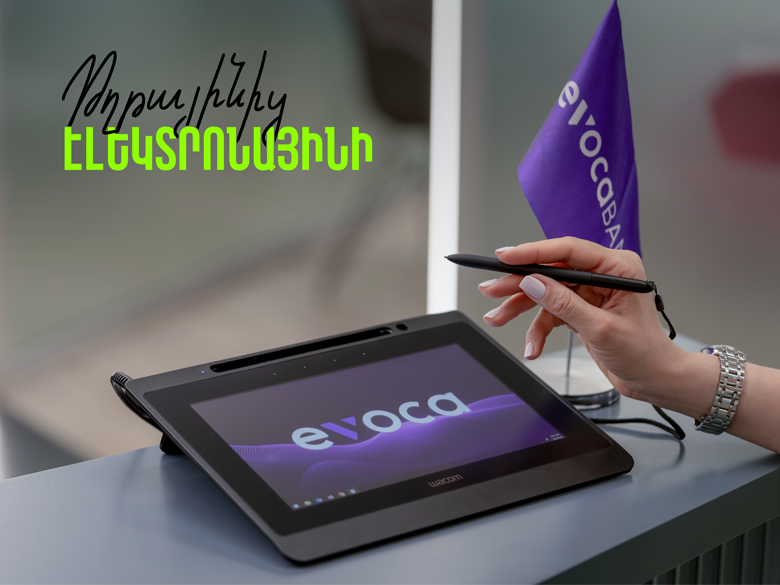 Evocabank has made another big step in digitalization by introducing a new e-Sign system, moving from paper to electronic technology: from now on, when signing a document in the Bank, customers will put their electronic signature on a special tablet.
Evocabank uses an electronic signature devise allowing the Bank customers to familiarize themselves with contracts using the tablet prior to putting their signature on it.
e-Sign system has a number of advantages:
It speeds up the document-signing process, saving our customers' precious time, which together with its optimal use has become a key factor for Evocabank.
Solution to ecological and environmental issues: the system significantly reduces the volume of paper used.
Within a few minutes after the transaction, the customer receives a copy of the document by e-mail, providing convenient, easy access to documents and transactions, also reducing paperwork for better experience and convenience of the customers.
It is secure and safe as the document cannot be edited due to due to special protection. It is impossible to forge or copy the customer's signature. Both in the case of paper documents and e-Sign, the customer signs each document separately.
Electronic signature can be used in signing documents related to opening and maintaining individual customer accounts, issuing and serving cards, depositing money, accepting applications for internet banking and mobile banking and other similar transactions.
The Bank plans to introduce e-Sign for legal entities as well.
e-Sign has been already introduced at Evocabank Head office and VIP lounge. Soon it will be available in other branches of the Bank.
The e-Sign system has been launched as a result of cooperation between IUnetworks LLC and Evocabank.
Evocabank regularly rolls out innovative services, products and digital solutions.