Innovations
Evocabank Online Point-of-Sale Loans at Crossroad.com online store
From now on you can shop online at Crossroad.com using installment payment plan, interest rate -0% *, no prepayment is required, payment should be made in installments, during 2 years.
07.07.2020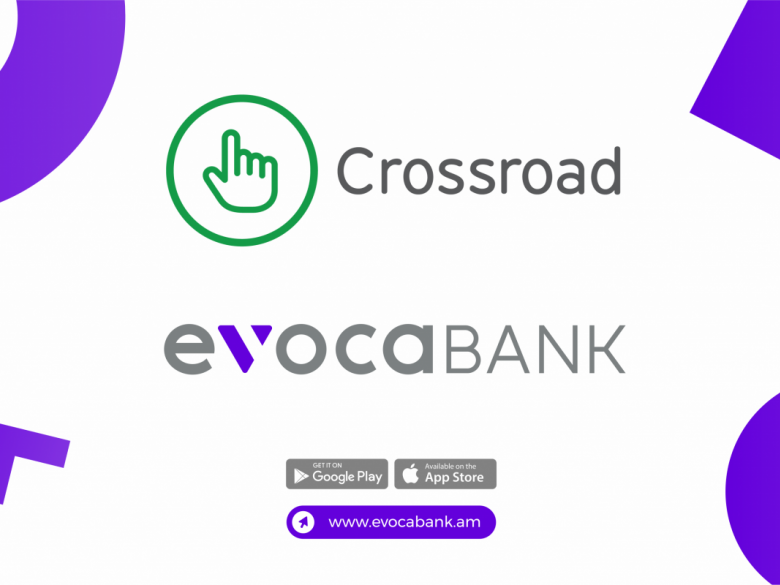 The Point-Of-Sale installment loan will be documented online, without leaving your home or visiting the Bank.
Choose the item you want to buy at Crossroad.com, fill out the needed data, and click the payment method: Evocabank Online Installment plan. The automated process is very fast, easy, without extra paper work.
Crossroad is an online mega mall of goods, services and coupons. Consumers may find and buy a wide range of goods and services on Crossroad platform. Vendors can open their web shores on Crossroad platform. Purchased items will be delivered over a short period of time, on the same or the next day upon placing your order. You can buy goods for home or garden, sporting equipment, office supplies, clothing, accessories, games, cosmetics and care products as well as food. Well-known brands like the favorite IKEA brand may be found on Crossroad platform.
From now on, Crossroad.com is also available in EvocaTOUCH app. The application may be used both by Evocabank customers and other users-non-customers.
Users can shop at IKEA store using EvocaTOUCH app and WelcomeEvoca promo code to get a special 10% discount by Evocabank and Crossroad. The promo code is valid till September 30.
As an innovative and modern bank, Evocabank continues to offer new, captivating products to make the life of its customers more interesting and comfortable.
* Monthly service fee - 1%. Factual interest rate - 24% per annum.