Innovations
Evocabank Launches Google Pay Support for Card Users in Armenia
Attach your Evoca Visa card to Google Pay and make contactless payments.
15.11.2022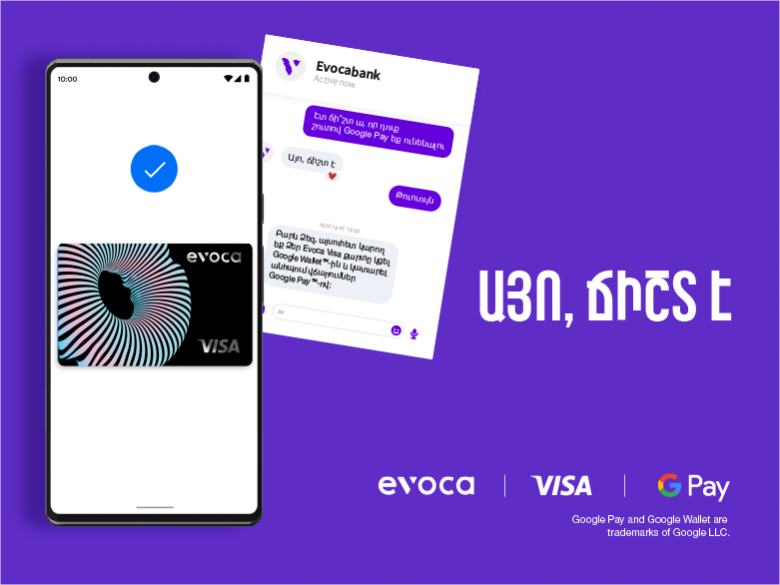 Starting today, Evocabank will support Google Pay, enabling cardholders to take advantage of simple and secure contactless payments and digital card storage on both Android and Wear OS devices.
Cardholders will be able to store Evocabank credit and debit cards within Google Wallet, a digital wallet that is also launching in Armenia today, and make payments anywhere contactless payments are accepted. In addition to payment cards, cardholders will also be able to save and access loyalty cards and boarding passes and event tickets in the Google wallet.
Using Google Pay also makes payments safer with multiple layers of security, adding to the protections already provided by your Evocabank card. This includes industry-standard tokenization, which means when you use your card stored in Google Wallet to pay, transactions are made using a virtual card number (a token). This token is device-specific and associated with a dynamic security code that changes with each transaction, providing an extra layer of protection from fraud. Also, if your phone is ever lost or stolen, you can simply use the "Find my device" function to instantly lock your device from anywhere, secure it with a new password, or even wipe it clean of your personal information.
"Google Pay provides a fast, easy and safe way for users in more than 45 countries to pay with their Android phone or Wear OS device," said Jenny Cheng, Vice President and General Manager, Google Wallet. "Users can simply add their debit and credit cards to the Google Wallet app and feel confident that their financial information is safe and secure when they're making a purchase or catching a train."
To start using your Evocabank card with Google Pay, download Google Wallet from the Google Play Store today.


What sorts of uses will the Google Wallet support?
At launch, people will be able to save and access payment cards, loyalty cards and boarding passes, and we'll be adding support for additional items over time.
What is the difference between Google Wallet and Google Pay?
Google Pay is the safe way to pay and make secure purchases in stores, in apps, and on the web.
Google Wallet is the place where you store your credit or debit cards so you can use them with Google Pay, as well as loyalty cards, boarding passes, and other items.
How does Google Wallet benefit users?
Google's Wallet will be easy to access and comprehensive in the use cases it supports, while also supporting seamless cross-Google app experiences and meeting our high security standards.
Can I use Google Wallet on any Android phone?
Google Wallet is available to users on any Android phone running Android 5.2 or later.