Lifestyle
𝗖𝗮𝗿𝗲𝗲𝗿 𝗖𝗶𝘁𝘆 𝗙𝗲𝘀𝘁 𝟮𝗞𝟮𝟯 as a Complete Success
On April 28-29, Career City Fest 2K23 was held in a big futuristic career city complete with a city council, themed streets and other characteristic elements.
04.05.2023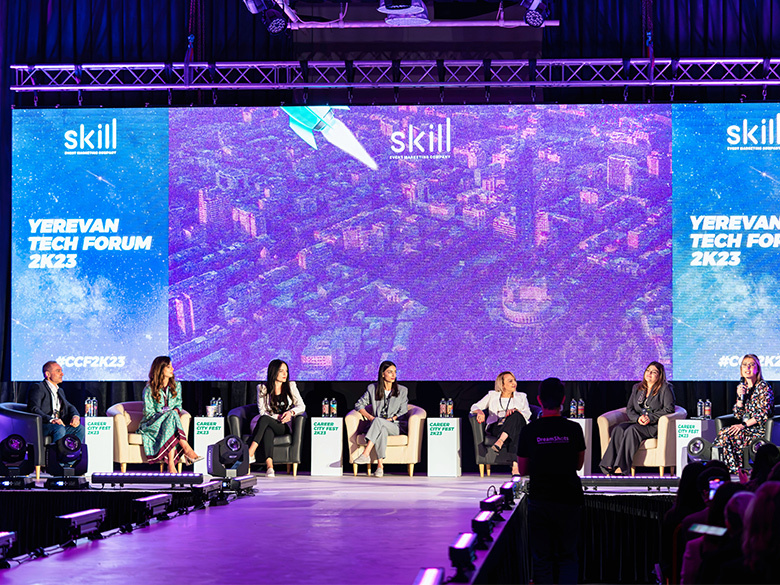 Career City 2023 fest was the sole and pioneering career fair with a unique setting attended by a great number of interested parties such as:
7000+

visitors

700+

team members

70+

companies
5

0+

speakers
The fest captured various engaging events, conferences, interesting panel discussions, draws, experience and knowledge sharing by specialists in various spheres.
Along with sponsoring the fest, Evocabank organized draws in its inventive, unusual pavilion, took part in heated panel debates and familiarized the attendees with the opportunities of joining the big Evoca team. The head of Evocabank's HRM division Tatev Vardanyan talked about "The Best Candidate through the Eyes of an HR Specialist", to convey practical information to participants, especially future job seekers.
On April 28, Evoca ran a draw to choose 2 lucky people – Ashot Yeghiazaryan and Mikael Musayelyan - who got an annual subscription for 𝗠𝗮𝘀𝘁𝗲𝗿C𝗹𝗮𝘀𝘀 and 𝗛𝗮𝗿𝘃𝗮𝗿𝗱 𝗕𝘂𝘀𝗶𝗻𝗲𝘀𝘀 𝗥𝗲𝘃𝗶𝗲𝘄.
April 29 competition was held in #𝗲𝘃𝗼𝗰𝗮𝗺𝗼𝗼𝗱 format to randomly choose 2 winners of annual subscription for 𝗠𝗮𝘀𝘁𝗲𝗿C𝗹𝗮𝘀𝘀 and 𝗛𝗮𝗿𝘃𝗮𝗿𝗱 𝗕𝘂𝘀𝗶𝗻𝗲𝘀𝘀 𝗥𝗲𝘃𝗶𝗲𝘄. These lucky girls were Araks Babayan and Angelina Tovmasyan.
Besides, 𝗖𝗮𝗿𝗲𝗲𝗿 𝗖𝗶𝘁𝘆 𝗙𝗲𝘀𝘁 𝟮𝗞𝟮𝟯 was teaching, motivating and inspiring with a great many of positive emotions, new opportunities, up-to-date knowledge and skill-building schemes, highly appreciated by Evocabank regularly having sponsored similar innovative projects.
Other news