Products
Online Student Loans
For the first time in Armenia Evocabank has prepared a version of applying for student loans online – through EvocaTOUCH app.
19.05.2020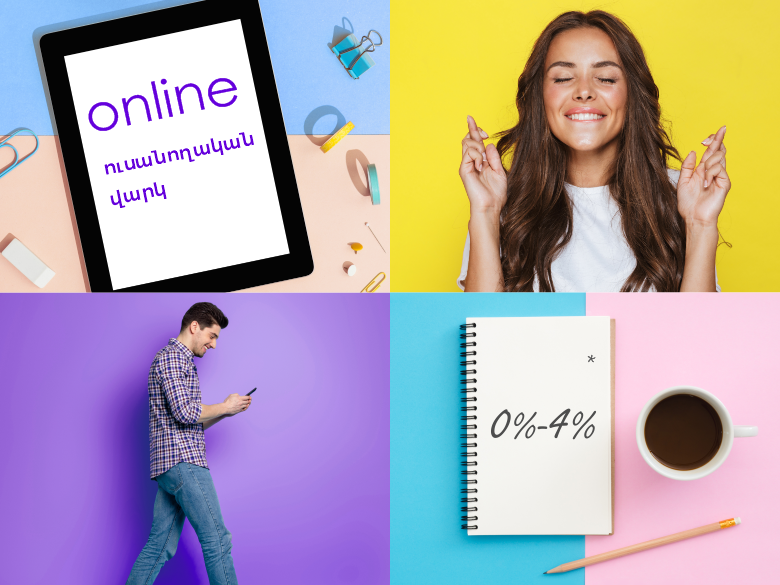 To turn for the loan, you need to:
Download EvocaTOUCH app,
Press

Get Loan

button,
Choose

Student Loan

,
Fill out some data and that's all!
Immediately after it you will be notified whether you comply with student loan requirements.
The final approval and documentation of the loan will be performed within 3 business days after notification on your eligibility.
Student loans will be provided for a period of up to 10 years, maximum loan amount is AMD 2,800,000 for the entire study period* – but no more than 4 years in 4 installments at a maximum, while each installment should not exceed AMD 700,000 or the annual tuition fee.
Nominal interest rate of the loan is 9%** , of which:
2%

-for all students,
3% - for students with higher academic achievements
will be subsidized by the government.
The annual interest rate for the period May 1, 2020․ to December 31, 2020․ will equal:
0% - for students with credit score 80% and over, ***
4% - for students with credit score below 80%.***
No other payments and fees will be charged.
During the study period, students will be paying the loan interest only, while upon graduation they will start paying a fixed amount of the loan principal and interest.
The loan will be made in non-cash manner through transferring the relevant amount to the bank account of higher education institution based on the invoice.
Eligibility requirements: RA citizens- students of bachelor's, master's program and clinical residency program (ordinatura) of state and state-accredited higher education institutions.
Good luck in your studies!
More information on student loans may be found here.
* Mandatory military service in military forces of RA DM will not be considered interruption of studies.
** Annual factual interest rate is 9.38%.
*** Factual interest rate difference will be subsidized by the government. In case of nominal interest rate of 0%-4% the factual interest will equal 0%-4,08%.