Innovations
Evocabank 3.0
Evocabank organized the first light drone show in Armenia in celebration of its 3rd anniversary and 30th anniversary of the Bank's incorporation.
21.09.2020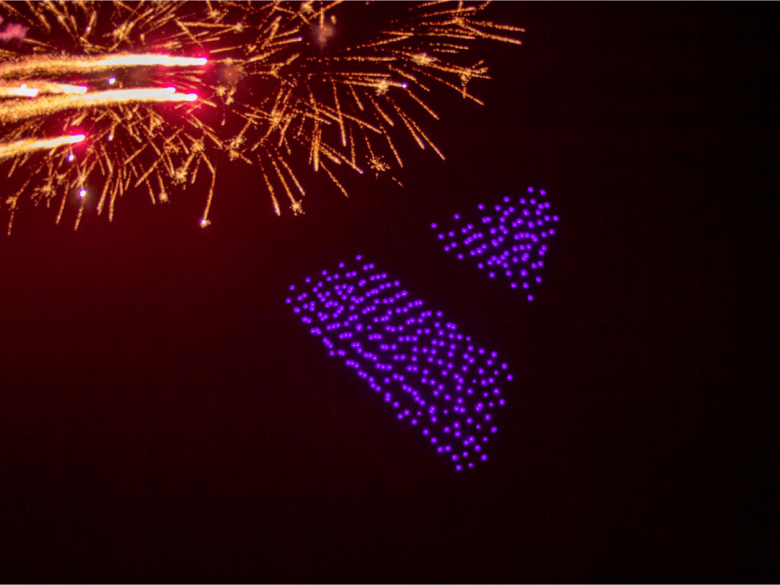 At 9 p.m. September 19th 300 drones simultaneously illuminated the Yerevan sky by projecting amazing images and congratulating Evocabank anniversary.
The drone show was organized at 200 m above Mayr Hayastan (Mother Armenia) statue base and was visible almost from any location of Yerevan.
"We decided to celebrate Evocabank's anniversary in a special way by sharing our heart-warming emotions with our fellow citizens. Instead of a private event for our partners and customers, as usual, we designed an entirely discernible big drone light show which is the first such event in Armenia. We are happy that Evocabank made it possible for our fellow citizens to enjoy the trendy drone light show in Yerevan sky with application of complex technological solutions. As the reaction and emotions of the eyewitnesses grouped to view the drone display, or people walking in the street and amazed at the surprise show, thousands of pictures and videos posted in social media, we think we have succeeded in transferring our festive mood to other people",- said Karen Yeghiazaryan, chairman of Management Board.
"As to the grass fire in Saralangy area which some media link to the Evocabank event, we are to assure you that the fireworks have been carried out by a specialized company acting in full compliance with the safety requirements and in the presence of relevant authorities. The latter immediately reacted to the fire and shortly after it extinguished it. Irrespective of the fire-related matters, Evocabank will turn to Yerevan city hall to organize tree planting in the dry grass area at the expense of Bank's funds", said the Bank representative.
As a fast, simple and innovative service bank, Evocabank stands apart from others for active use of state-of-the-art technology helping it to keep up with the times. In 2017 Bank underwent rebranding introducing its new mobile first business model and EvocaTOUCH app.
For the last three years the Bank broke down numerous stereotypes thus making the reality brighter and exclusive. The Bank has introduced a number of innovations in financial system such as SingleTOUCH loan product provided as a first online product in Armenia, cardless withdrawal of money through ATMs, online loans for purchase of goods, EvocaBot – first payment bank bot, biometric identification based on artificial intelligence, etc.
For the 4th year consequent Evocabank is acknowledged as the Best Digital Bank in Armenia by the influential Global Finance magazine.