Innovations
Evoca Digital Brochures with QR Code
Scan the QR code to view the Evoca brochures on your phone.
08.06.2021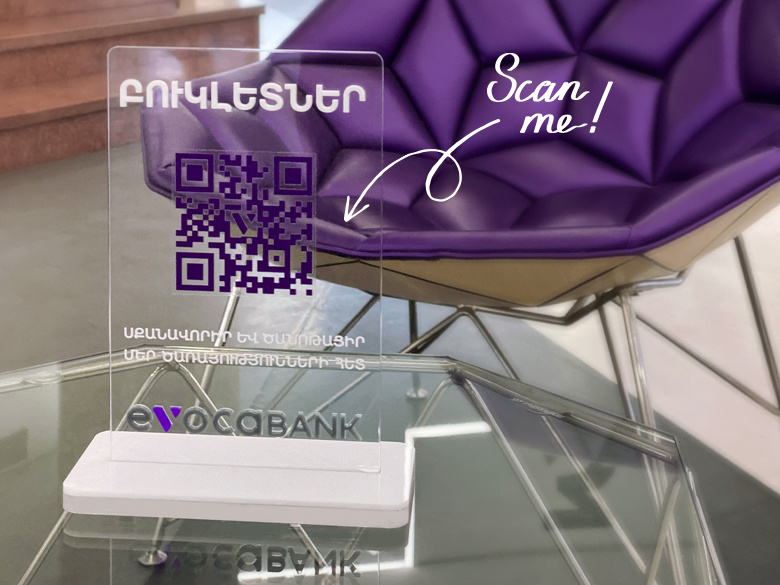 For the first time in Armenia Evoca presents digital QR brochures which may be downloaded online from Evoca's new website, as well as from any Bank branch.
To read a brochure for a product you got interested in, you may visit any Bank branch, approach the QR stand, scan the QR code and that's it. The brochure will appear on your smartphone screen. It can be downloaded and the complete information on the particular service will be kept on your phone. Evoca as the bank with a mobile-first approach, has designed its brochures specially for mobile view: they are convenient and easy to read on your phone.
Lucy Sarukhanyan, Head of Evoca's Marketing and PR Department, mentioned, "QR brochures solve multiple tasks at the same time:
Their primary goal is to reduce the volume of paper used as we bear in mind that environmental protection is a global challenge in the world.

Evoca

takes care of the ecology regularly offering new projects and contributing to this matter of great importance. Let me remind you that

Evoca

is recycling the paper and plastic waste originating from its operation.
On the other hand, the QR brochures will greatly reduce the risks associated with transmission of viruses through paper brochures.
Besides, QR brochures are convenient and simple to use. Unlike their paper analogues, they are not lost, worn out and always are handy. The service tariffs and conditions will be with you all the time. You may at any moment and in any place review and compare them with new offers".