Other
Evocabank's New Branch Opening in Yerevan
Evocabank has opened a new - Malatia branch in Malatia-Sebastia district at 134/8 Andranik street, Yerevan.
15.06.2020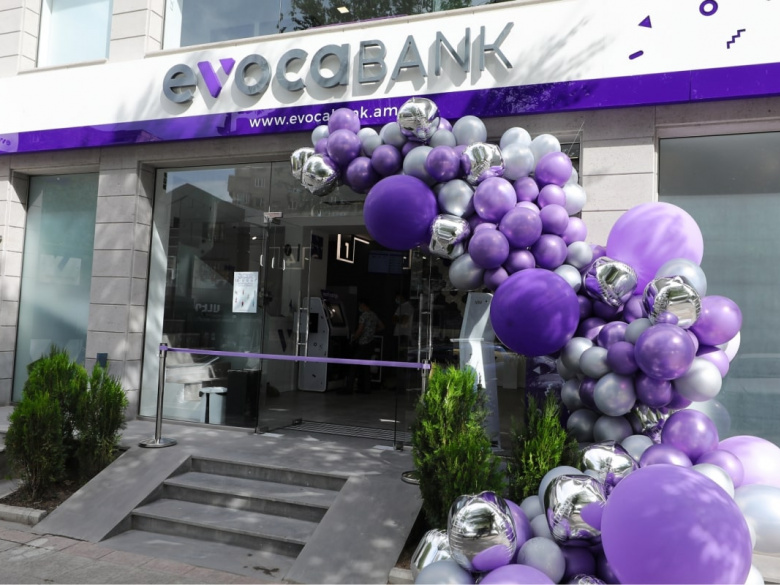 In parallel with growing digital services, Evocabank expands the geography of its offline services.
The newly opened Malatia branch is the Bank's 9th one in Yerevan and the 12th in Armenia. It will be operating from Monday through Friday at 09:30-17:00. The branch customers will be serviced at the comfortable front office with state-of-the-art technology. Equipped with the queuing system, payment terminal and foreign exchange terminal, the customers will save their time executing certain transactions on their own via terminals without the Bank employee involvement.
The launch of a new branch is another step towards implementation of the Bank's business expansion policy. The main purpose of launching a branch is to make Evocabank's digital and offline services more accessible for Malatia-Sebastia community, said Karen Yeghiazaryan, Chairman of Management Board.
"Expansion of the Bank's branch network during the state of emergency is a significant event. With the launch of a new branch we will provide a positive impulse to the public and enhance the formation of optimistic expectations among them. Moreover, we plan to open another branch in Nor-Nork district of Yerevan. In order to strictly comply with anti-epidemic measures, no opening ceremony was held in Malatia branch. Instead, upon cutting the ribbon, the branch staff set to work immediately", said Karen Yeghiazaryan, chairman of Evocabank's Management Board.
Malatia branch will offer favorable terms to all individuals and legal entities having become the branch customers during the first month of operation, in particular:
Classical deposits – at +0.25% higher interest rates,
Money transfers in AMD – free of charge,
Real property-secured personal loans in USD – annual nominal interest rate minus 1%, i.e.:

11% vs. 12% - for loans without income verification,
9% vs. 10% - for loans with income verification,

Surety-backed personal loans denominated in USD, nominal interest rate per annum minus 1%, i.e. 12% vs. 13%,
SWIFT money transfers -25% discount of standard commission fee,
For new customer - individuals and legal entities – execution of transactions through EvocaToken app – free of charge for the first year,
Fee for annual card servicing - for the entire period of card validity (3 years) at 30% discount, i.e.:

Visa Classic, MasterCard Standard cards - AMD 3,500 vs. AMD 5,000,
Visa Gold, MasterCard Gold cards - AMD 10,500 vs. AMD 15,000,
Visa Infinite premium cards - AMD 70,000 vs. AMD 100,000
The Bank has 9 branches in Yerevan and 3 branches in Gyumri, Vanadzor and Abovyan cities. Evocabank branch location details may be found here.