Products
Opening Bank Accounts and Online Deposits from anywhere in the World
Owing to EvocaTOUCH artificial intelligence biometric identification system, you can open a bank account and EvocaOnline deposit in a few minutes from anywhere in the world.
16.11.2020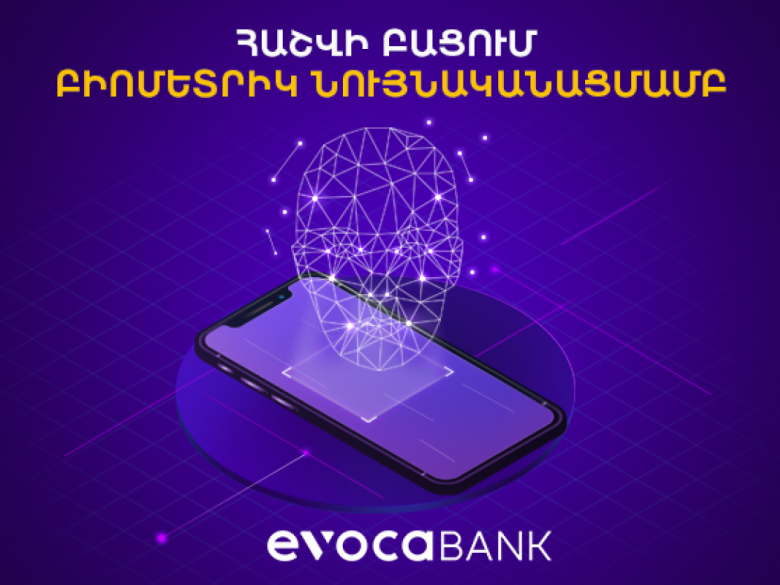 To open an online account, you need to have an RA passport and social or identification card.
You can open bank accounts in AMD, USD, Euro and RR. If you are a natural person, online accounts will be opened and serviced free of charge.
Those wishing to open an account need to download EvocaTOUCH app, choose Open account button, then undergo id card identification or facial recognition (biometrics). In a few minutes the account will be accessible.
Having opened a bank account through the mentioned app, you will have a fully operable bank account which may be accessible online and offline – in any Bank office.
Online account holders will be provided with a free access to EvocaTouch app and an opportunity to execute bank transactions. EvocaTouch app has a number of privileges as follows:
Money transfers between Bank customers – free of charge
Money transfers in the RA territory- free of charge
Utilities and other payments-

free of charge

International money transfers – 25% less than Bank's current fees.
As soon as you opened an online account, you can put money into the account as EvocaOnline deposit – again online, without visiting the Bank. Placing an EvocaOnline deposit is easy, fast and attractive. The deposit interest rates are 25% higher than those of classical deposit.
In short, Evocabank makes it possible to open an online account, use it for carrying out transactions, have free access to EvocaTouch app, without visiting the Bank.