Innovations
Evocabot – First Armenian Payment Bot in Banking by Evocabank
As the first and only mobile-first bank in Armenia, Evocabank launches its first functional banking bot service - Evocabot- to provide information and perform transactions.
18.07.2020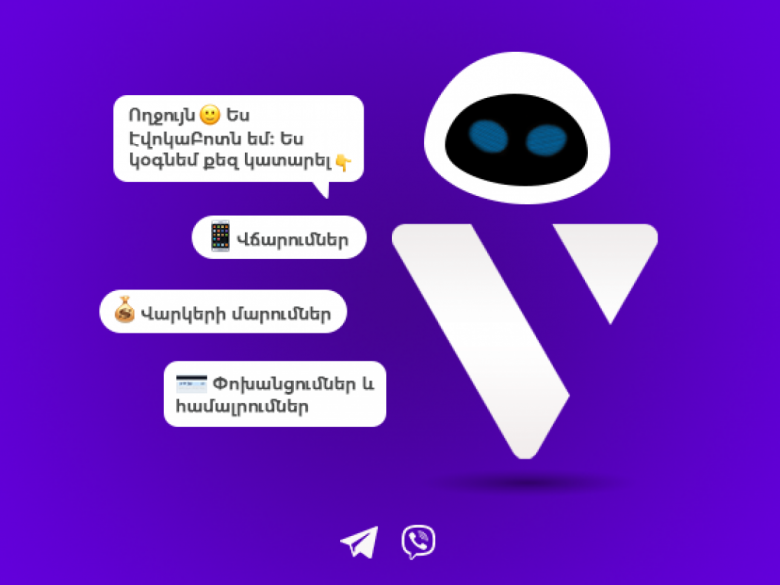 In the recent years as a new payment method messengers and messenger-based bots are growing intensively. Banking bots enable financial institutions to make two-way communication between banks and customers more comfortable and interactive.
Evocabot is an artificial intelligence-powered payment terminal which helps the users:
Make payment for utilities and state services,
Replenish accounts,
Make payments on loans provided by both Evocabank and other companies,
Make money transfers from one account to another.
Evocabot may be accessible for Evocabank and other bank cardholders.
What you need is to search on Viber (https://chats.viber.com/evocabank) or Telegram (https://t.me/evocabot) for Evocabot and join our plain, positive virtual assistant. Soon it will be accessible also on Facebook Messenger.
Evocabot will also single out the payments you frequently make and remind you on the desired date of your payment.
The transactions through Evocabot are absolutely secure. The final payment process is executed on the Bank's platform and cannot be accessed by a third party.
"Development of new ways of digital service is the main area for Evocabank. Evocabot will help minimize the work load of call-center and branches, speed up customer service and enhance convenience of delivery of bank services. We will upgrade Evocabot on an ongoing basis. New surprises are coming out soon!", - said Artur Karchikyan, head of Digital Business Department.