Other
Evocabank's Tumanyan Branch Relocated to New Premises at 15, Tumanyan str.
Starting August 3, 2020 Bank's Tumanyan branch will be operating in new, ultra-modern premises.
03.08.2020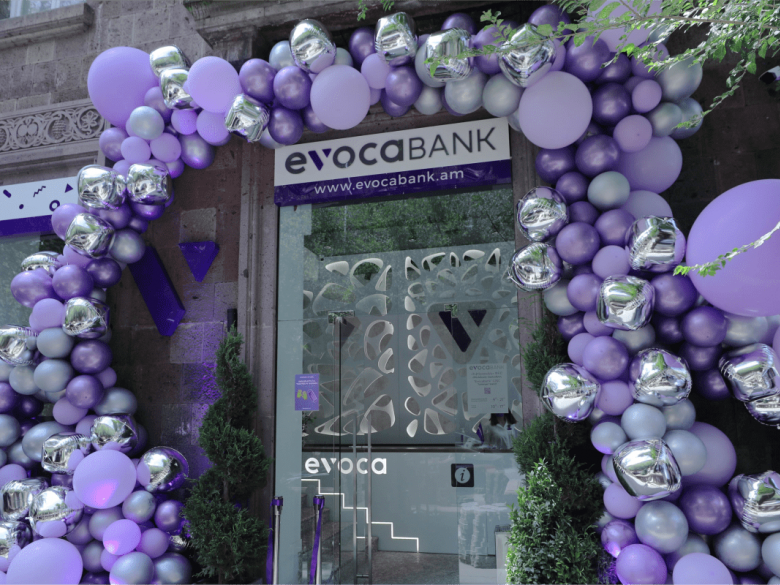 The branch will serve its customers in a spacious, comfortable front office equipped with state-of-the-art technology. The newly installed queuing system, payment terminal and foreign exchange terminal will help branch customers save their time by executing several transactions on their own, without Bank employees involvement.
Apart from delivery of standard bank services, one of the customer service areas will be operating as #dibrary – digital library.
The #dibrary will allow the customers to use electronic business resources like: e-Duke Journals Scholarly Collection, ASTM Compass, Edward Elgar Publishing Journals, Mathematical Sciences Publishers Journals, Royal Society Journals Collection, SAGE Premier, etc.․․․
#dibrary's stock of books, articles and publications will be enlarged on an ongoing basis, adding to it paid non-public resources of the best universities of the world. Apart from electronic books and articles, modern bestsellers on business will be available at #dibrary for reading in the branch office or taking them home.
"We have created a unique environment for smart and ambitious young people. Here they can get a free chance of reading electronic books. They can also download interesting resources while enjoying a cup of coffee.
We are grateful to Digital Library Association of Armenia (DLAA), Avetik Isahakyan library and American Corner Yerevan for their kind support in opening the #dibrary. Owing to such support, #dibrary customers can use free books of publishers whose membership is rather expensive or beyond-the-reach of most people.
We are convinced that #dibrary in the center of Yerevan will become a favorite place for forward-looking young people", said Karen Yeghiazaryan, Management Board chairman.
Tumanyan branch will offer favorable service terms to all individuals and legal entities having become branch customers during the first month of operation, in particular:
Classical deposits – annual interest rate plus 0.25%,
Money transfers in Armenian drams – free of charge,
Real property-secured personal loans denominated in US dollars – annual nominal interest rate minus 1%, i.e.:
11% instead of 12% - for loans without income verification,
9% instead of 10% - for loans with income verification,
Surety-backed personal loans denominated in US dollars, nominal interest rate per annum minus 1%, i.e. 12% instead of 13%,
SWIFT money transfers – standard commission fee minus 25%,
For new customers – individuals and legal entities – execution of transactions through EvocaToken app – free of charge for the first year,
Rental of safe deposit boxes - for the first year – standard fee minus 50%,
Fee for annual card servicing – for the entire period of card validity (3 years) at 30% discount, i.e.:
Visa Classic, MasterCard Standard cards - AMD 3,500 instead of AMD 5,000,
Visa Gold, MasterCard Gold cards - AMD 10,500 instead of AMD 15,000,
Visa Infinite premium class cards - AMD 70,000 instead of AMD 100,000,
ArCa Vision cards - AMD 0.
As a reminder, Evocabank opened a new branch in May in Malatia-Sebastia district. Soon the Bank plans to open another branch in Nor-Nork district. Bank branch location details may be found here.